<! BACKGROUND="graphics/colorsq1.gif">

MASTERMIND Live In Tokyo
Special Limited Edition Compact Disc
---
Mail orders no longer being accepted.Please do NOT send any money!
(Check out the new official live album here)
---
This Limited Edition numbered pressing was recorded live at ON AIR WEST in Tokyo, Japan on January 23, 1997. Released by Cyclops/GFT of the UK and sold directly to the end user in an effort to bolster the band's touring budget and help Mastermind travel to far away places to play. Perhaps even to your home town.
This disc will NOT be sold through usual dealers or retail outlets and will only be made available exclusively by mail order from the Cyclops Club catalog, from the band itself (by mail order and at live shows). Arrangements are being made to make them available in Japan, we cannot forget our Japanese fans!
This is an amazing effort that truly reflects the global nature of the music of Mastermind as progressive rock lovers from three continents have come together to make it a reality. A British label releasing a concert recorded in Japan by an American band!
The album is a bootleg style recording from a blend of house mixing console output and ambient room mics. The album runs 69:12 minutes in length and features works from all four Mastermind studio albums recorded 100% live (unlike most live albums) during the band's recent trip to Japan. We chose this concert not because it is the best Mastermind performance ever, nor is it the best live recording ever made, but it marks the special occasion of our Japanese debut and Poseidon's first progressive rock concert in Tokyo. It's a bit raw, but it's ballsy as hell!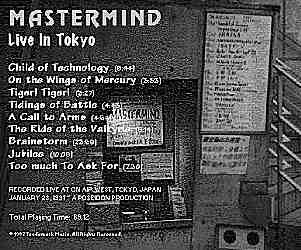 Although a Mastermind Live album has yet to be released, this is NOT an "official" release from the band and should be looked upon as an authorized bootleg of sorts. Accordingly, no promos will be given out, no review copies given away, no DJ freebies, nothing. This Special Limited Edition release is for dedicated Mastermind fans and collectors only and must be purchased by anyone and everyone who would like to own a copy of this rare one time only pressing.
As we all know, progressive rock is not supported by large music corporations or the government, so it is therefore necessary to generate tour support in other creative ways. In the coming months Mastermind will embark on its first trip to Europe and this disc will help subsidize some of the expenses involved. We ask you for your help in bringing the music to the people and hope you will order a copy today.
Ordering information and track listing is provided below, but order SOON because the price will surely rise as supplies dwindle. We hope some of you will to help with up front expenses of our European tour (such as airfare - 5 different flights must be booked to make it happen). All orders received before May 1st will get personally autographed copies! You will sleep better at night knowing you did your part to help advance progressive rock around the world. Help keep live progressive music alive, order today!
---
Track Listing:
MASTERMIND Live In Tokyo
A Cyclops Club Special Limited Collectors Edition CD

Child of Technology (5:44)
On the Wings of Mercury (3:33)
Tiger! Tiger! (3:27)
Tidings of Battle (4:43)
A Call to Arms (4:54)
The Ride of the Valkyrie (5:14)
Brainstorm (23:59)
Jubilee (10:05)
Too much To Ask For (7:30)
RECORDED LIVE AT ON AIR WEST, TOKYO, JAPAN
JANUARY 23, 1997 ~ A POSEIDON PRODUCTION
Total Playing Time: 69:12
---
OUT OF PRINT
Cyclops/GFT
33A Tolworth Park Road
Tolworth, Surrey, KT6 7RL England
Tel: +181.339.9965 / Fax: +181.399.0070
---
Top
Return