Archive for January, 2013
It's been a while since things have been updated here. We all hope everyone had a nice holiday season and your 2013 is off to a good start!
—
We're kicking off 2013 here with some new music from Mastermind guitarist Bill Berends. The Kickstarter campaign to fund the release (see previous blog entry) was a resounding success and Bill's new solo album In My Dreams I Can Fly is available now. You can check out music samples and purchase CD's or downloads on CD Baby and a variety of other sources.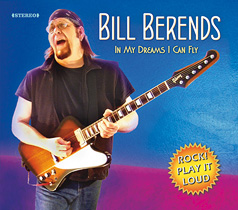 Lots of melodic tunes and guitar work on this album, and although it's more straight forward rock compared to Mastermind releases, so far feedback from Mastermind fans has ranged from positive to highly enthusiastic. Read the first review here for a more objective view and stop by CD Baby to hear some samples.
Prog-rock fans may know Jason Gianni, the drummer on this album, from his work with the Neal Morse Band. Jason is a real powerhouse and gives the album a different feel, making it more of a 'solo album' rather than a reworked Mastermind release. It's generally an upbeat and positive sounding album… "Joyful" was the word Keiko Kumagai of Ars Nova used to describe it when she heard it. It's also a good album to play in the car! It just may get you where you're going a bit faster, so check it out.
—
In Mastermind news… there is no news really. There is a new album in the works, but it seems to be painfully slow going for a variety of reasons. But it will come, sooner or later. There is lots of new music written. The Berends Brothers Band has been playing a few old Mastermind tunes in their live set, but that doesn't always go over so well in mixed company. Rich Berends has been playing with the Philly metal outfit "Frost Giant", his son-in-law's band, and Bill is gigging with Treasures of the Spirit Mahavishnu tribute, but there are currently no concrete plans for any future Mastermind shows. That could change.
If there was a good reason to get Mastermind up and running again it could be done. We could have a concert set ready to go in a fairly short period of time… make us an offer! But playing out locally as a progressive band, in all honesty, there isn't much of a demand for it. So we will continue to make recordings and see where the road leads us. Never say never. Thanks for reading, check out the links above, and best wishes for 2013! -Bb
—
ps: Mastermind's 2010 release Insomnia is also available on CD Baby now.
No comments