Archive for January, 2017
Happy New Year and best wishes for 2017!!
To start off the new year the entire Mastermind discography is now on sale on bandcamp at a special 50% discount when you purchase the entire catalog. Full fidelity audio or choose from several audio formats, FLAC to mp3, it's quite a bargain for $37 USD! Simply click on any album and purchase info is below the album price. Take advantage of this deal now!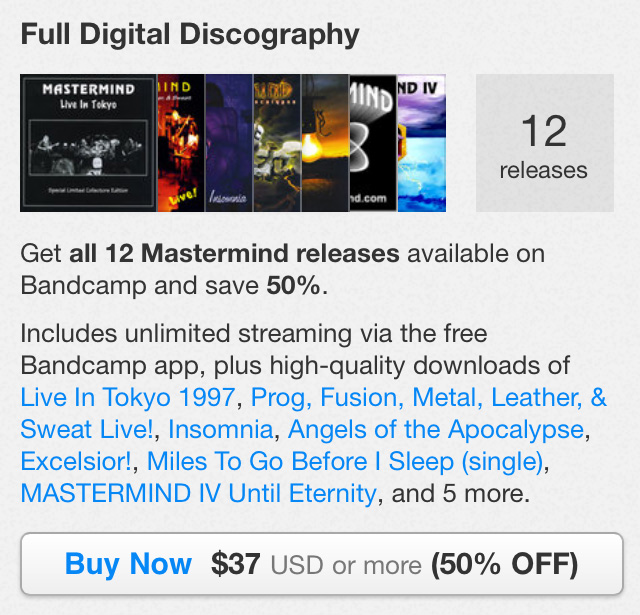 In other news, Mastermind guitarist Bill Berends has set up a new bandcamp music store called BENVALIA MUSIC to make solo works and other non-Mastermind recordings available. Both Benificial to the artists and of Value to the discerning listener, please take a moment to check it out and like Benvalia Music on Facebook while your at it. Thanks! 🙂
"Benvalia Music showcases works performed, produced, and/or curated by resident musician/producer Bill Berends. Home to a careful selection of styles, bands and artists, it was set up to bring quality music to fans world-wide."
Titles on Benvalia Music include BIll's 1988 solo new age electronica EP Life Cycle, pianist brother David Berends' prog-pop band THE NAME, prog keyboardist Micheal West, and other carefully selected artists Bill has worked with or produced over the years. More interesting music and more Bill Berends solo material both new and old is coming in the near future.
That's it for now! Please join the Berends Music Mailing List if you have not already.
Here's to a wonderful New Year!

ps: the Broken EP will be added sooner or later along with other vintage live recordings and various oddities and out takes. So much to do, so little time, please check back often!
No comments