Archive for the 'interviews' Category
Season's Greetings and happy holidays!
Mastermind's Fearless Leader Bill Berends has posted a new holiday video on his web site. Of particular interest to Mastermind fans is the second half of the video is based on a demo for a possible potential 8th Mastermind album. youtube.com/watch?v=it0eiZAeN7M


If you missed Bill's FNP interview back in November (see below), the show is now archived so you may listen on demand: Friday Night Progressive: Bill Berends interview and award show. Mastermind fans may find some of the commentary enlightening.
That's it for now. Bill continues to write new music and everyone else is doing whatever it is they do. Be sure to bookmark billberends.com and join the mailing list for future updates.
Best wishes to all for a happy holiday season!
No comments
On Friday Nov. 28th Friday Night Progressive honors Mastermind guitarist Bill Berends with the "Indeprog Award" for outstanding prog artistry in recognition of his musical career and commemorating the 20th Anniversary of MASTERMIND III: Tragic Symphony. Featuring a candid interview with Bill, commentary, music & chat. Tune in live at 9pm EST (NYC time). All of us here would like to thank FNP for their ongoing interest and support. Thank you!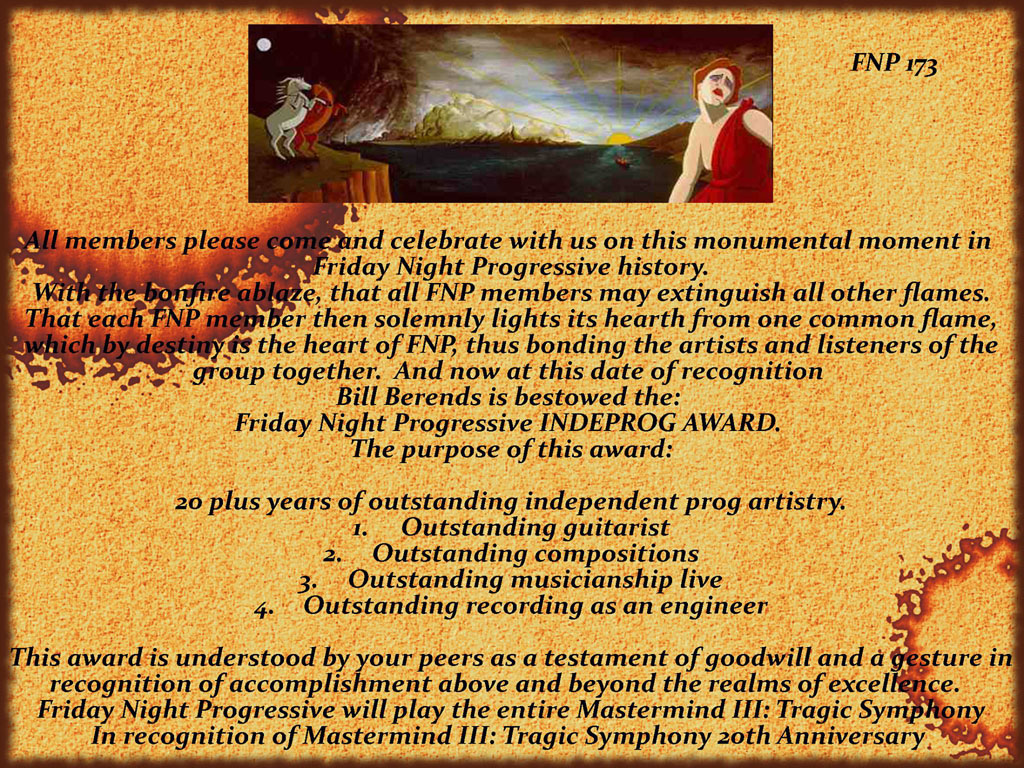 Interview (Archive) Originally aired Nov. 28, 2014 | Facebook FNP group
No comments